Inverting the Head (Head Upside Down)

VERY therapeutic for all of our brains!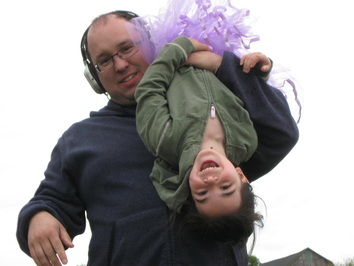 Sensory Benefits of Inverting the Head
Regulating and organizing for the nervous system
Calming or alerting depending on the state of regulation
A unique vestibular experience and powerful dose of input
Joint traction or compression on the spine
Known to stop hiccups
Can help a child recover from fight or flight or a sensory meltdown
Can help a child avoid fight or flight or a sensory meltdown
Supports attention to task, focus, and concentration


Ideas to Invert the Head!
Backwards over a therapy ball or large hippity hop ball laying on back or stomach

Hang over the edge of a bed or couch

On your lap, have the child gently flop backwards over your knees

Hang upside down on a playground bar or any sturdy bar

Head stands and hand stands

Hang over the edge of a hammock or cuddle swing

Lay in a stationary position on a slide head first

Simply hold the child upside down (as pictured above)
Inverting the head is best done in small doses throughout the day. Be cautious though if this is the first time for your child...as some are resistant to this initially, especially if vestibular defensiveness is present. Also when returning the child to upright...do this very slowly and have the child tuck their chin for a moment when back in the upright position. If the child is unable to do this independently, you can gently assist this tucked position.